Welcome to Shoreline Modern Dental
Dr. Bradley J. Daar, your dentist in Old Saybrook, has been dedicated to providing high quality and affordable dental care for over 30 years. By combining state-of-the-art technology with the most effective and proven methods of treatment, our experienced professional team will help you to maintain a healthy and beautiful smile!
At Shoreline Modern Dental, we treat our patients as partners in care. Our treatment plans are tailored to achieve optimal oral health and to fulfill the cosmetic smile goals of every patient. Providing precise dental care with a gentle touch, we strive to make every visit to our office a comfortable and stress-free experience. Whether your visit with us is for a routine checkup and cleaning, dental fillings, a root canal procedure, a cosmetic smile makeover, dental implants or sleep apnea treatment, we are well prepared to serve your dental needs.
Dr. Daar has advanced training in Dental Implants and Full Mouth Implant Restorations. We offer free consultations for our implant services and also offer seminars to the public to educate and answer questions. You can learn more by clicking here for our Implant website.
Dr. Daar also treats patients for Sleep Apnea. We encourage the use of CPAP machines as it is the gold standard for Sleep breathing disorders. We do make appliances for Sleep Apnea upon referral from various Medical Doctors when a patient is unable to wear the CPAP. We offer free screenings and consultations for Sleep Apnea treatment with an oral appliance. Click here for more info.
Delivering one-of-a-kind results to one-of-a-kind patients, it is our hope that you choose us as your dentist in Old Saybrook. We look forward to welcoming your family into ours! Please feel free to browse through our website or to give us a call for more information on the many services that we provide.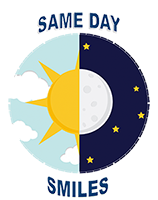 Learn about implant dentistry »